​​

Botox,




Dermal

Fillers




&

PDO Threads

​

---
​Botox, Dermal FIllers & Treads

---
​Botox and fillers are a fast and easy way to achieve a more youthful look. They are minimally painless injections that is very effective in reducing the appearance of lines between the eyebrows, lines across the forehead, crow's feet, lines above lip and horizontal lines on the neck.
"Perfect Balance" Botox
®
(Dysport
®
, Xeomin, JEUVEAU
®
)
The Perfect Balance Botox method enhances results and sustainable longevity with consideration of proportions and how opposing muscles interact - leaving the face smooth and wrinkle-free with perfect balance.
Botox is a fast and easy way to achieve a more youthful look. It is a minimally painless injection that is very effective in reducing the appearance of lines between the eyebrows, lines across the forehead, crow's feet, lines above lip and horizontal lines on the neck. Botox works directly on the muscles that cause facial wrinkles. When the muscles treated are temporarily weakened the lines will soften and the face will appear smooth, fresh and rested.​
Botox is made of the botulinum toxin type A, which when used in very small amounts, has been found to temporarily paralyze muscles. On the face this is important because muscles are the culprit behind wrinkles, in this case the wrinkles caused by repeated actions such as frowning or squinting. When injected into the muscle creating the wrinkle, Botox works by blocking nerve signals to the muscle, stopping the muscle from contracting. With the muscle temporarily paralyzed, the wrinkle on the surface is reduced or disappears.
This treatment takes about 10 minutes and consists of a few small injections. Within days this procedure creates a noticeable improvement in moderate to severe frown lines between the brows. The results of this short procedure can last for up to 4 months. Results may vary. Contact us to schedule a consultation today!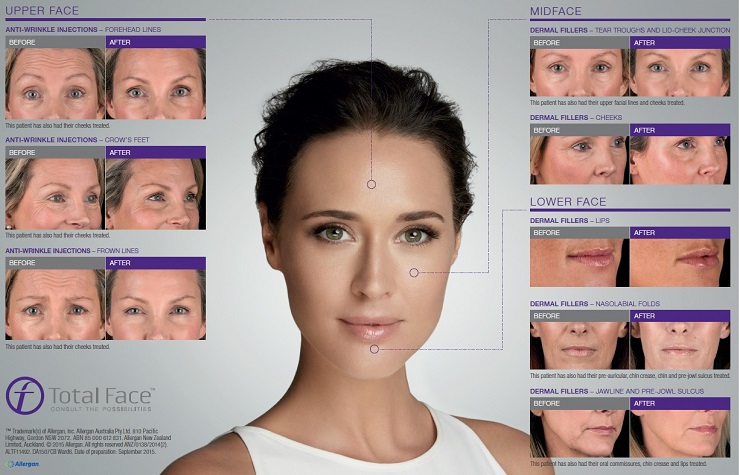 Dermal fillers are a cosmetic dermatological procedure that is used to minimize the appearance of facial lines and wrinkles while also replacing the lost volume which is known to plump lips. Dermal fillers are gel-like substances that are injected beneath the skin to restore lost volume, smooth lines and soften creases, or enhance facial contours. More than 1 million men and women annually have choose this popular facial rejuvenation treatment, which can be a cost-effective way to look younger without surgery or downtime. Call us to schedule a consultation today!
Dermal injectable fillers deliver volume and tighten the skin. Their application is used to correct severe facial creases, wrinkles and folds. Dermal injectable fillers are also used for lip enhancement, defining cheek bones, etching chins and jawlines, under eye repair, and non-surgical nose jobs (non-surgical Rhinoplasty).
The simplified approach of "filling" a line in the face can make you look unusual by altering the natural proportion and nuances of the face. Wondermedspa's skilled physician and Nurse recognizes the necessity of staying youthful looking, while always remaining natural.

Products: Juvederm, Voluma, Volbella, Restylane, Restylane-L, Perlane, Perlane-L, Radiesse, Sculptra, Boletero, and all other FDA approved dermal fillers used.


HIGH DENSITY PDO THREADS
At WONDERMEDSPA, we use HDPDO (high-density poly-dioxanone) threads that are made under high temperature and pressure to hold maximum tensile strength, resist enzymatic attack, and become more thermal resistant, making it stronger and long-lasting. HDPDO stimulates the fibroblast to produce more collagen causing rejuvenation and revitalization of the skin.
The PDO Thread Lift is a minimally invasive treatment that uses threads made of Polydioxanone (PDO) to lift and tighten loose and sagging facial skin. The treatment can remove or reduce wrinkles and improve the skin's texture, creating smoother and younger-looking skin
​
Who is a candidate for Threads?
A PDO Thread Lift is best suited for someone who is between 40-70 years of age who has wrinkles and pronounced facial lines that make them look older than they really are.
It is also well-suited for individuals who:
Have minimal signs of aging
Are looking for alternative fillers that are more effective and long-lasting
Wishes to avoid surgery, general anesthetic, or undergo prolonged recovery
Have had some relapse from a previous plastic surgery procedure, like a facelift or neck lift
HD-PDO Thread Procedure
The PDO Thread Lift procedure will usually take about 15-30 minutes. During your appointment with the healthcare specialist, you will first be given a topical anesthetic to reduce any possible pain, and the injection sites on your face will be marked with a white pencil.
What to expect?
The results of this tightening and rejuvenation process include:
A reduction in the appearance of fine lines and wrinkles
Younger and firmer-looking skin
Improved blood circulation
Improved skin tone, texture, pigmentation, and scarring
Increased skin metabolism
Activation of the lymphatic circulation
Brightened skin
After about 12 months, the HD-PDO threads will harmlessly dissolve, but they will leave behind a prolonged rejuvenation effect that will last about 2 years.
There may be some slight bruising and swelling due to the injections. However, recovery from the procedure takes only 2-3 days to a week, and you can return to work the same day. Due to its non-invasive nature, the procedure will not leave behind any scars. However, you should avoid any dental work for about 2 weeks afterward, and strenuous activity for 2-3 weeks afterward. Contact your healthcare provider if you experience more serious – though rare – side effects, such as an infection or nerve damage.
The HD-PDO threading provides instant results, with optimum results appearing after about 3 months. The HD-PDO threads will stimulate your skin cells, and cause new collagen and blood vessels to form around the threads.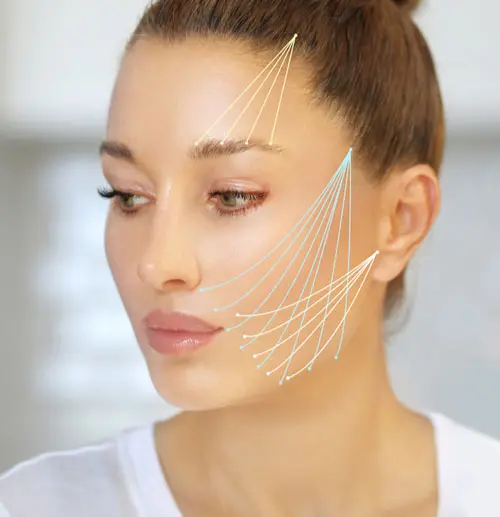 PDO threading is the premier option for non surgical facelift. The threads are composed of polydioxanone which is a safe and absorbable suture that is placed under the dermis of the skin. The suture stimulates collagen production which then fills wrinkles and tightens the skin. The suture absorbs completely in 4-6 months and the results of the collagen formation last 1-2 years.

— Forehead lines
— Drooping eyebrows
— Sagging jowls
— Ageing skin
PRICING
Lip Contouring — $250
Upper Lip Smoothing — $300
Lower Lip Smoothing — $400
Eye Lift — $600
Eye Bag Smoothing — $800
Eye Brow Lift — $450
Neck Lift — $1,500
Jowl Lift — $1,200
Nasal Labial Folds/Parentheses Lines — $250
Smile Lines — $200
Frown Line Smoothing —$300
MESH
​Smooth threads are used to create a mesh (some placed vertically and some horizontally) under the skin to serve as a foundation for new collagen production. This technique tightens the skin naturally from within. Areas of use include nasolabial folds, marionette lines, tear troughs, smile lines, tighten skin in neck, forehead wrinkling and frown lines between the eyes. They can also be used in other areas of the body to tighten and rebuild collagen such as the abdomen, legs and arms.
LIFT
Barbed threads are used to create a more dramatic and immediate result. The PDO sutures have barbs, which provide grip underneath the skin. The skin will build collagen which will secure the lift. Areas of treatment for lift threads include lower face to improve the appearance of nasolabial folds and jowling, define jawline and tighten skin in neck. Lift threads can also be used to lift other areas of the body including breasts, buttocks, knees and other areas of laxity and sagging.
PDO THREADS & PRP BREAST LIFT
The PRP and PDO Threads Breast Lift offers women another way to have perkier, more youthful breasts. Instead of going through traditional breast lift surgery, blood is taken from a woman's own body, it is prepared in order to separate the platelet-rich plasma, or PRP, from the rest of the blood,and it is injected into the breasts. The injections are placed in key sites that will benefit the most. PRP has growth factors. These growth factors are beneficial in promoting the production of collagen. Collagen will make a woman's skin firmer and more elastic. PRP will also trigger healthier circulation to the area. Combined with PDO Threads New tissue growth can be enhanced as well.
Non-surgical Breast Lift Techniques -
You don't have to resort to surgery to get back firm breasts. There are several non-invasive ways of going about it-
Hyaluronic Acid or PRP Treatment -
Another effective way to non-surgically gives your breasts a lift is through Hyaluronic acid or PRP therapy In the gel form, this can be a substitute for breast implant surgery. Not only do they make breasts firmer but fuller also.
Hyaluronic acid provides hydration to the cells and tissues of the breasts and makes them supple. They remove wrinkles and stretch marks.
The PRP Breast Lift (VBL) -
Another way to get firmer breasts without having to undergo the trauma of surgery is the very popular PRP Breast Lift. There will be no incisions and sutures. The surgeon will simply inject Platelet Rich Plasma into your breasts. The proteins present in the PRP promote growth and repair of cells. The advantages of VBL are-
Gives you firmer and shapely breasts
Makes the skin taut and smooth
Enhances blood circulation
Minimizes scars and wrinkles
PDO THREADS & PRP BUTT LIFT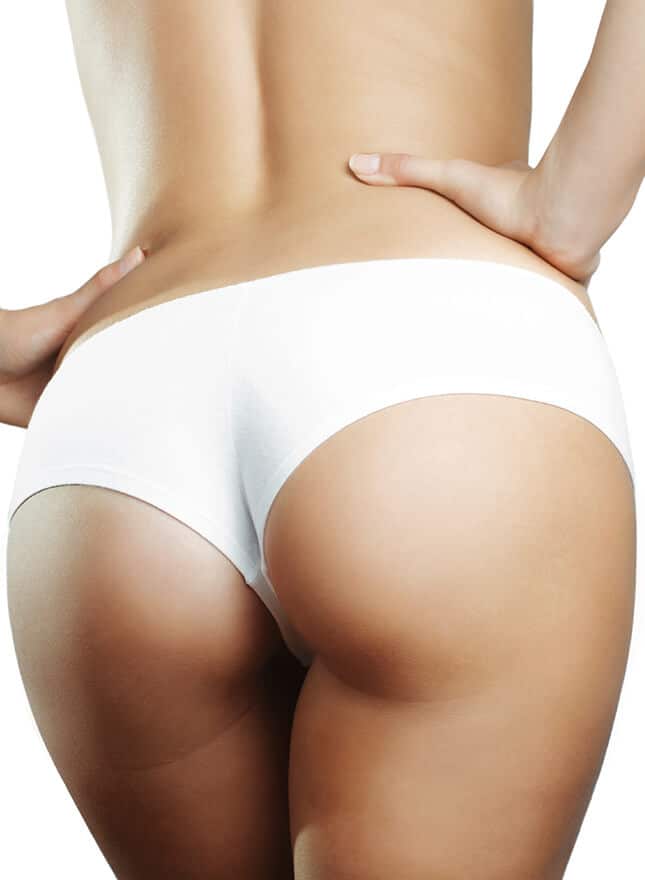 The Vampire Butt Lift® (PRP) helps improve your figure by using your body's own resources. You no longer need to worry about losing the shape, contour, or smooth-skin appearance of your butt. By using Platelet Rich Plasma (PRP) that is re-injected into a more desirable location in the body, you can get an improved appearance in your problem area without having to go under the knife for an invasive and painful procedure.
The Vampire Butt Lift® helps improve your figure by using your body's own resources. You no longer need to worry about losing the shape, contour, or smooth-skin appearance of your butt. By using Platelet Rich Plasma (PRP) that is re-injected into a more desirable location in the body, you can get an improved appearance in your problem area without having to go under the knife for an invasive and painful procedure.
If you desire more beautiful natural contour and lift to your buttocks, the Vampire Butt Lift® may be the solution you need.
HOW IS IT DONE?
Vampire Butt Lift® procedures are performed in-office. A topical anesthetic is used to numb the area. A small amount of blood is drawn from your arm in the same way any standard blood test is performed. Your blood will go through a separation process via centrifuge. This process separates red blood cells from the Platelet Rich Plasma (PRP). PRP contains many growth factors that are beneficial for the body and your desired goals. The harvested PRP is injected into the desired location using a special syringe and technique. By using the patient's own tissue for augmentation, there is no chance of an adverse or allergic reaction.
What are the benefits?
Shapelier butt
Increased tone
Reduced wrinkles
Reduced vein appearance
Reduced cellulite
HOW MANY TREATMENTS ARE NEEDED?
It is recommended for 3 treatments once monthly to obtain results that are expected to last 3-5 years.
*Fillers can be incorporated into your treatment for added fullness or to add to the desired shape
DRAMATICALLY IMPROVE SIGNS OF AGING WITH OUR NEWEST SERVICE
RF MICRONEEDLING!!
GET VISIBLE RESULTS IN 3 EASY TREATMENTS…
​

Reduce Fine Lines and Wrinkles

Erase Scars

Improve Skin Tone and Texture

Repair Sun Damage
It's like skin remodeling from the inside out!
Secret RF microneedling is an innovative new aesthetic treatment that stimulates and remodels collagen to improve the signs of aging skin including fine lines, wrinkles, photodamage, and scars. It's a fast, in-office procedure that can safely and effectively help you achieve younger-looking skin with 3-4 easy treatments and little to no downtime.
Unlike other devices that only deposit energy on the surface of the skin, Secret RF delivers energy below the surface where it's needed most to help revitalize and regenerate the skin. This unique delivery of energy allows us to achieve optimal results on all skin types.
Secret RF microneedles gently penetrate the skin, causing minimal damage to the skin. Once the needles reach the targeted depth, Bipolar RF energy is evenly delivered to the skin to stimulate and remodel collagen. Following a series of 3-4 treatments, you will notice your skin looking younger, smoother, and more even. Who doesn't want that??!?
Dr. Wilkes is a Board Certified Physician who has cared for over 90,000 patients in his 25 year career.
Trained at Thomas Jefferson University in Philadelphia and Mt. Sinai Medical Center in New York, Dr. Wilkes has spent most of his career as a hospital-based physician.
Dr. Wilkes has now added an aesthetic component to his practice, providing non-surgical treatment with lasers, toxins, fillers, and threads in order to help patients achieve their most youthful and healthy selves. Dr. Wilkes has specific expertise in facial aesthetics, body contouring, and sexual health.